I was born in '88 in Calcutta and in these 20 years of my existence, our family has moved to 4 different rented houses. As far as I can remember, in the late 80s, a landline telephone connection was not for the common man or even the moderately rich. Television was the proud possession back then, and by the time I was 2 years old, my parents had bought a Black and White Television set (which after innumerable repairs, still works fine with excellent picture quality). Colour TV back then was what a 3D TV is today, possessed by only a few. By the time I was 3, we moved to a new house, and in a few years the cost of coloured TV had reduced and those with sufficient money could afford it. Landphones had also started moving into houses, but were still very few. I remember my mother going to post office, and buying some 20-30 inland letters at one go and writing letters to my Mausi (her elder sister) who is in England, my Mama's and others in Punjab. The letters would be delayed by days, weeks, or months. Then, she would read it out loud to us all, and sit down to write back a reply. Yes, postman was the much awaited person back then.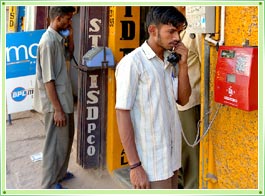 Coin Operated PCO
By the time I was in Class 4, we had to move to another house. The landlord had a phone connection, and was kind enough to allow us to give his number to relatives in Punjab. On rare occasions there would be a call for us, and we would rush to the first floor room of theirs and sit next to it as my mother or elder sisters would talk on the phone. Probably the first time I had seen a phone this close. But I was still considered too small to dial any numbers or make any call. My Uncle who also lived in Calcutta did have a phone connection, but I rarely got to touch it. PCOs were emerging as a good business, and you could find one in or around your area, though PCOs with STD and ISD facility were rare, or far away. In the mean time, BSNL had reduced STD and ISD rates for ealry morning calls (calls before 6 am) and so, my mother would go once in a month (or two months) to call my Mausi, Mama and other relatives. The call pulse was 6 mins, and rates were still very high considered to present day call rates.
In another year or so, the pulse duration of the calls had been reduced to 3 mins, and so were the call rates. General goods stores started keeping coin operated phones, and you didn't have to travel so far to make a call. I must have been in class 5 or 6 when I first used a coin operated phone, to make an enquiry about the arrival time of trains coming from Punjab, in which my parents were travelling. Railway trains back then were (in)famously known for being running way behind schedule. Oh, the joy and pride of operating a phone... It was the time when PCOs were coming up in every street, just like we have mobile recharge shops in every nook and corner now.
By the time I was in Class 7, mobile phones had entered India. Only the rich possessed it. It was an indicator of your wealth, but even those who possessed it asked you not to call them on mobile, since incoming calls were also chargeable. We changed our house again, as the owner asked to vacate the house. In another year or two, the call rates for landphones had dropped. Landphones were no longer uncommon among households. Ours still didn't have one, though the frequent travel of my father to Punjab after the death of my grandfather and disputes over property meant we had to go to a nearby shop having a telephone connection at a pre-fixed time and wait for the call. We still couldn't afford paying the monthly rental. The hassles involved in getting a land connection when you are in a rented house and the fact that every 5 years we had to change the house didn't quite help either.
Dhirubhai Ambani
Then in 2002, something happened. Someone died, and it was all over the news. Dhirubhai Ambani had died! I had never heard his name before that. But his death made him immortal, and also changed the way we communicate in India. His sons took over, and Reliance announced plans of giving mobile phones for as little as Rs 500! There was a mad rush to get a mobile phone. Call rates for mobiles had dropped a lot in the last 2 years and were giving serious competition to landlines. Reliance ushered in the mobile age in India. From the
rickshawallah
to the
sabziwallah
, everyone had a mobile now. 2 years later, my elder sister bought a mobile phone for the family. She was a teacher in a private school and saved money for the phone. There was no "lifetime" validity back then. Each month you had to recharge it with a minimum of 300, of which you would only get a balance of 150. We would wait for the phone to ring, and everytime it rang, all of us in the family would rush to the mobile to pick it up. We would infact let it ring once or twice before picking up, change its ringtones every alternate day. Even unwanted pesky calls were welcomed by us. AFter every call that was made, my mother would write down the amount billed and amount left, and every paisa was accounted for. I couldn't send any SMS to my friends without her detecting it as the balance would not match to her calcluation. She still retains the habit, though me and my sisters don't care much now, after all, phone companies now send in the balance left and deducted instantaneously.
I got my first phone in the second year of college, because it was difficult for my parents to keep in touch with me otherwise as I was living in a hostel away from them. To be precise, I had my first phone, (Nokia 1100) in the 2nd semester of Engineering, when a senior was kind enough to give his extra mobile to me. 6 months later, my sister bought a new mobile and gave her mobile to me, and I returned that back. Since then, every time my sister would buy a new mobile, I would be handed over her mobile. And so I got to possess Nokia 1110c, Nokia 2310 and Nokia 3310. Motorola Defy thus is the first non-Nokia, first hand mobile of mine.
Motorola Defy
The next generation will probably never get to know all this, they might be even surprised to hear that mobile once had small screens, with keypads. I remember my mother telling us how 1paisa had so much value once, she even showed it to us once. She also told us that earlier, you needed a license to have a bicycle too (unimaginable, isnt it?)! Probabaly one day I will narrate similar tales to my nephews too.
6 years down the line, everyone in my family has a mobile, with me and my youngest sister having 2. Well, I now have 3 for that matter. Had someone asked me 5 years back that I will one day possess a mobile worth 14k I would have laughed at his face. But things have changed, the world has changed. A big thank you to Reliance also, for ushering in the mobile revolution, for even if I had not been an engineer today, I might not have held a Motorola Defy, I am sure I still would have had a mobile.